Troubleshooting Heat Exchanger Performance
The primary key to avoiding premature failures of your steam-fed heat exchangers is to keep the heat exchangers completely purged of condensate at all times.  If you are getting poor performance out of your heat exchanger, here are some troubleshooting ideas to pinpoint problematic areas of performance:
Clogged strainer
No drip trap
No separator, wet steam
No strainer
Pipe reducers
No vacuum breaker
No air vent
Damaged or dirty fins
CFM too high
Lifting after trap
Wrong coil selection
Coil not pitched
Wrong coil material
Wrong or failed trap (size/capacity/type)
Undersized condensate return pipe
No freeze protection valve
Wrong or failed control valve
Blockage in steam pipe
Carbonic acid corrosion
Our in-depth experience with replacing heat exchangers has proven that about 90% of the time it comes down to two most important issues to troubleshoot.
Lifting after the trap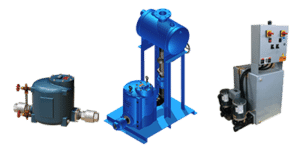 A key thing to understand is that a trap is not a pump.  If you take a look at the steam loop, and you are lifting condensate, in some modes of operations your heat exchanger will be in a 'stall' condition.  This means when the steam pressure is modulated back due to low load requirements, there is not enough differential pressure to purge the heat exchanger of the condensate.  Your heat exchanger is flooded and now the carbonic acid corrosion begins.
There are a few options that could be selected based on the application.  If you have the room available, we can size and select an electric condensate pump package including isolation valves.  This type of condensate pump would be able to get your condensate through the piping system back to your boiler instead of leaving it 'stalled' in your system.
Air Vent and/or Vaccum Breaker
The other major issue with steam heat exchanger equipment is not having an air vent and vacuum breaker.  The inclusion of an air vent and vacuum breaker essentially allows the equipment to 'breathe'.  When equipment 'breathes', steam is able to properly enter and exit the heat exchanger.  An air vent allows the air in the system to escape when filling the exchanger with steam.  The vacuum breaker allows air in when the steam turns to condensate.  These two additions to your steam system will prolong the life of your equipment because it will not allow the condensate to sit, again, creating carbonic acid corrosion.
View Our Steam Products