STEAM
Steam Products
Cooney Coil & Energy is a stocking distributor for Watson McDaniel American-made steam specialties. If you're in need of a steam trap, pump, regulator, control valve, liquid drainer, pipeline accessory, or repair kit we have you covered!
We have items in stock! Give us a call at 610-783-1136 to see what's available for same-day delivery.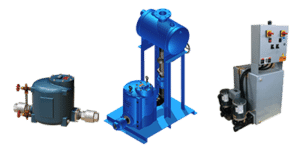 Pumps
Standalone Non-Electric Pressure Motive Pumps, Sump Drainers, Pump-Trap Combinations, Standard & Customized Skid-Mounted Systems, Electric Condensate Pumps, Pump Accessories.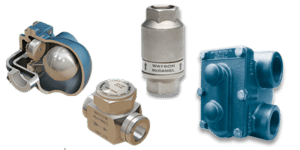 Steam Traps
Steam traps allow condensate and air to be discharged from the steam system without the loss of live steam. Float and Thermostatic  (F&T), Thermodynamic (Disc), Thermostatic (Bellows), Inverted Bucket (IB)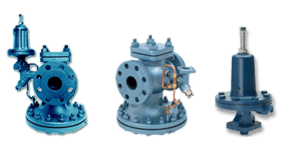 Regulators
Pressure Reduction, Temperature Control, Pilot-Operated, Direct-Operated, Piston-Actuated, Back-Pressure Relief, Noise Attenuators.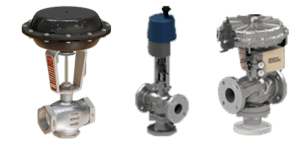 Control Valves
Pneumatically-Actuated, Electrically-Actuated, Valve Positioners, I/P Transducer, Air Filter & Regulators, RTD & Thermocouple Temperature Sensors, Thermowells, Electronic PID Controllers.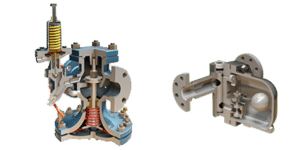 Kits & Parts
Watson McDaniel Kits & Parts make it easy and economical to repair many of their products.
Steam traps are used to filter out condensate and air without the loss of live steam. Used in drip, process and steam tracing applications.
Float & Thermostatic (F&T) Steam Traps
Thermodynamic (Disc) Steam Traps
Thermostatic (Bellows) Steam Traps
Inverted Bucket (IB) Steam Traps
Complete PMP Pump System – Simplex, Duplex and Triplex packaged systems available
Stand Alone Pressure Motive Pump
Electric Pumps
Pump Trap Combinations
Sump Drainers
Regulators are simple, cost-effective valves used for:
• Reducing Pressure (PRV)
• Controlling Temperature
• Controlling Back Pressure
Unlike control valves, regulators are self-powered, which means they do not require any outside source of power such as air pressure or electric actuators to operate.
2-Way Control Valves
3-Way Control Valves
Repair kits are available for products offered by Watson McDaniel, as well as retrofit or interchangeable kits for competitor products.
Steam Audit
Full Steam Trap Survey & System Audit
Plugged, leaking, or blowing steam traps can cost thousands of dollars in lost energy every year. Detect any waste of energy, efficiency, and dollars with a steam trap survey from Cooney Coil & Energy. 
Available in Philadelphia, Pennsylvania, New Jersey, and Delaware.
get a Quote
Contact Us to Get Your Project Started
Today
Our experienced team can help troubleshoot problems, assess complex heating and cooling system issues, and recommend the best solution.  Get a hold of us today for a quote!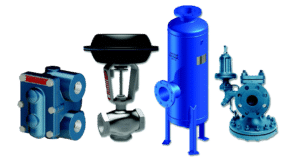 More Resources You Might Be Interested In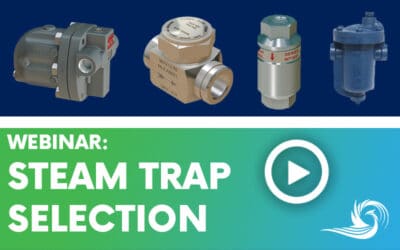 Wondering what steam trap to choose for your steam system? Worry no more! This webinar covers: types of steam traps, drip trap sizing and trap applications.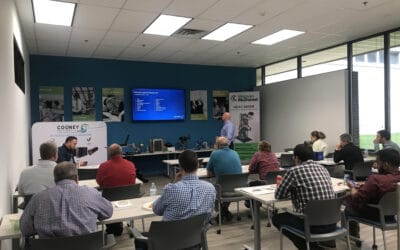 Get on the Lunch and Learn calendar and look forward to a lunch break worth taking. Let us come by and answer any questions you have about HVAC systems. We'd love to get to know you better plus, lunch is on us!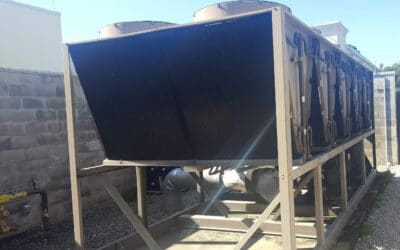 We're happy to announce Cooney Coil & Energy is now an Evapco Alcoil distributor of MicroChannel coils! Evapco's microchannel coils are a robust design and built to last longer than typical OEM microchannel coils. Contact us today for replacement microchannel coils in the Philadelphia area.