Heat Exchangers
Cooney Thermo-Pack
The Cooney Thermo-Pack is a revolutionary new technology that saves energy and reduces maintenance with a compact sleek vertical design. The vertical packaged heat exchanger skid utilizes the latest in shell & coil technology while helping to save energy, space, and money.
Available for domestic and heating hot water applications. Completely customizable.
Not sure what steam to hot water heat exchanger is for you?  Our team of steam experts can help, give us a call at 610-783-1136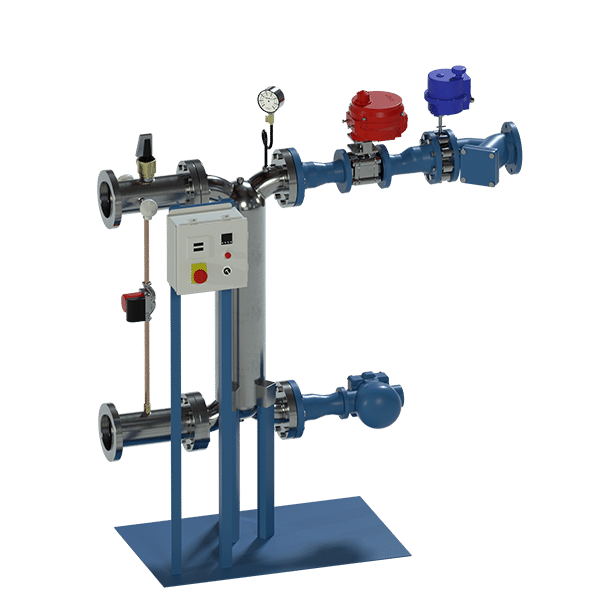 Domestic Thermo-Pack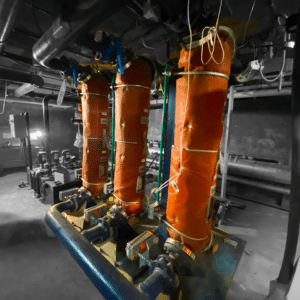 Heating Hot Water Thermo-Pack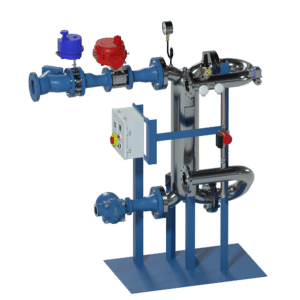 Custom Domestic Thermo-Pack
Cooney Thermo-Pack
Ultra high-efficiency – Save 10-15% on Energy compared to traditional shell & tube heat exchangers
Completely customizable
Eliminates flash steam losses
Sanitary 316L SS wetted parts
Condensate sub-cooling as low as 100° F
Compact design fits into tight mechanical rooms
Available for Domestic, Heating Hot Water, or Process Applications
Efficient and Reliable Water Heating in a Compact Skid
Using the latest in shell & coil heat exchanger technology, the Cooney Thermo-Pack provides efficient reliable water heating to the market for both domestic, heating hot water, and process applications.
Engineered to sub-cool steam condensate by utilizing the maximum amount of energy from every pound of steam, the Thermo-Pack can help increase efficiency and eliminates flash steam.
The compact vertical design can easily fit into tight mechanical rooms. While the ability to further customize dimensions and outlet orientations helps to reduce installation time and costs.
Efficiency
The large heat transfer surface area within the compact vertical design of the shell & coil heat exchanger allows for a large heat transfer surface area resulting in a highly efficient and effective system.
This technology is the most efficient way to generate heating hot water and domestic hot water from steam due to its ability to utilize cross-counterflow sub-cooling.
The Thermo-Pack captures the latent heat of the steam as well as sensible heat from the steam condensate. Perfect for district energy end-users.
Maintenance
Complete SS 316L welded construction ensures strength and durability. The corrosion resistance of the tube sheet and shell makes for minimal maintenance.
Space Savings
The small footprint of the vertical heat exchanger makes it ideal for tight spaces. Ability to manifold together for unlimited capacity in confined spaces.
Reduce Your Thermal Foot Print
Interested in saving money and energy? The sub-cooling design of the Cooney Thermo-Pack can help save an average of 10-15% on energy costs when compared to a traditional shell & tube heat exchanger.
Sick of Catalog Units? Want a plug & play heat exchanger with the latest technology? 
All Cooney Thermo-Packs can be customized to fit your specific application including elevations, piping, materials, components, and more. Cooney Engineered Solutions will be there for you throughout the entire process including:
Consultation
Initial Site Visit
Customization
Design
Construction
Start-Up
Energy Analysis
Energy Analysis Request
Cornell University
Case Study
Learn how Cornell University is utilizing Cooney Thermo-Pack's to provide reliable, efficient hot water to residents in their North Campus.
Testimonials
Cornell University Case Study
"Cooney Engineered Solutions worked with us and created what we wanted. The condensate sub-cooling and how cool we can get the condensate is great. We're getting more heat and that's a big factor with any kind of hot water conversion, to be more efficient"
– Frank Perry, Thermal Distribution and Hydroplant Manager at Cornell University

get a Quote
Contact Us to Get Your Project Started
Today
Our experienced team can help troubleshoot problems, assess complex heating and cooling system issues, and recommend the best solution.  Get a hold of us today for a quote!