The Importance of Humidification
Humidification, simply put, is the process of adding moisture to the air. It's a crucial factor in creating and maintaining optimal indoor air quality. In hospitals, proper humidification can help prevent the spread of airborne viruses and bacteria, protect sensitive medical equipment, and enhance patient comfort. In universities, it can contribute to a conducive learning environment by reducing static electricity and enhancing air quality. Meanwhile, in pharmaceutical industries, maintaining precise humidity levels can significantly improve product quality, leading to increased profitability.
Whether it's preserving the integrity of medical equipment, maintaining optimal learning environments, or ensuring the quality of pharmaceutical products, the right humidity levels are key. This is where the innovative humidifiers by SteamOvap, offered through Cooney Coil & Energy, come into play.
ILS Live Steam Humidifiers: An Overview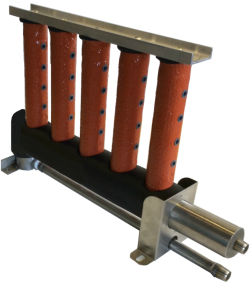 ILS Live Steam Humidifiers from SteamOvap use steam from a central boiler, conditioning, and distributing it effectively in air handling units or air ducts. This technology allows precise control over the humidity levels.
Benefits of ILS Live Steam Humidifiers
Ease of Installation: Both ILS-P and ILS-SO models are designed for easy installation, reducing setup time and complexity.
Ease of Control: With an electronic controller and options for BACnet or Modbus RS485 communication, controlling your ILS humidifier is straightforward and user-friendly.
Durability: Constructed with robust materials and designed for long-term performance, ILS humidifiers are built to last, ensuring you get the most out of your investment.
Industry-leading Warranty: Confidence in the durability and performance of ILS humidifiers is backed by the industry's longest warranty of 3 years, offering peace of mind and protection for your investment.
Why Choose SteamOvap Humidifiers?
ILS Live Steam Humidifiers offer an efficient, durable, and easy-to-control solution for humidification. With their ease of installation, robust construction, and industry-leading warranty, they represent a smart investment for any organization requiring precise humidity control. For more information on how ILS Live Steam Humidifiers can benefit your operations, contact us at Cooney Coil & Energy today.